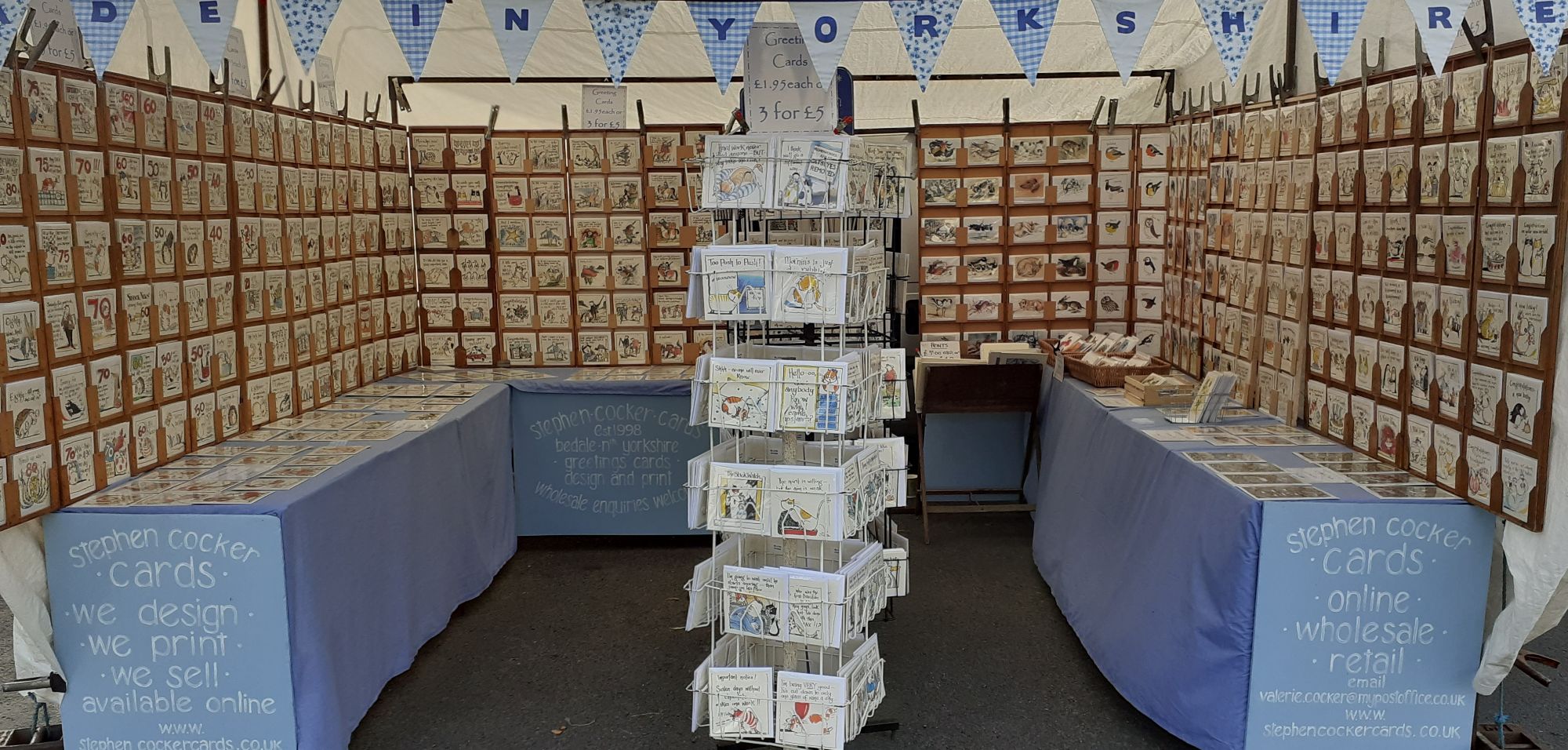 2022
We are now back to Masham, North Yorkshire every Saturday & Wednesday at the small country market with our stall. Come and see us. It's a great, friendly little market and the town has lots to see.
We also attend Muker Show, Nidderdale Shows & Masham Sheep Fair. All fabulous events and well worth a visit.
You may be new customers, you may have already bought our cards or possiby, we will have actually met at markets and shows.
We hope that you enjoy our website and you like what we do.
We design funny, inoffensive humorous cards suitable for all the family. You won't find our cards in the supermarket or the large card chains but neither will they break the bank. Quality cards at very reasonable prices.
Stephen's quirky sense of humour (including a passion for puns) and his unique drawing style lend themselves ideally to greeting cards.
Our subjects are wide ranging and our range is constantly growing. If you have suggestions we are more than keen to hear them, although we don't do commissions.
We retail locally and wholesale nationally. This close contact with our customers keeps us up to date with what our card buyers want. It seems that what people want is 'something different' so we keep working on that!
We attend an outdoor country market on Wednesdays and Saturdays (when restrictions allow) in the beautiful North Yorkshire market town of Masham, as mentioned in the JK Rowling's Cormoran Strike series of novels. We actually lent our stand to the crew who were filming an episode for TV. The actor/extra was really chuffed when he actually sold some cards. Masham is well worth a visit, walks, historic buildings, cafes, pubs and if you make the trip come and introduce yourself.
Time doesn't allow us to attend many shows but we do have a stand at Muker Show & Nidderdale Show in Pateley Bridge.
See our Testimonials page
We established Stephen Cocker Cards in 1998. After many years designing and producing handmade ceramic tiles they changed direction, moving towards a cleaner, less physically demanding and more light hearted medium.
Stephen designs and Val prints. We do everything ourselves, designing, printing, packing, posting.
All our cards are designed and printed in house (actually in the house). Said house also contains dogs, cats, guinea pig, fish, wife, children, grandchildren, which is all inspiring stuff for a befuddled artist!
P.S. This desk was tidied for this photo!